Songkran is Thailand's New Year Celebration. It is celebrated on April 13th with the next day being Family day. This year Songkran fell on Saturday, which made for a 4 day holiday (April 13-16).
Songkran is celebrated with trips home and giving water to elders and also water spraying and squirting by many...
There is a massive exodus from Bangkok, resulting in most neighborhoods being deserted and most local shops and eateries closed.
Those left in Bangkok head downtown to the malls as Tina and I did to shop, eat, and take photographs.
So please join us for our trip to downtown Bangkok and the Terminal 21 Food Court...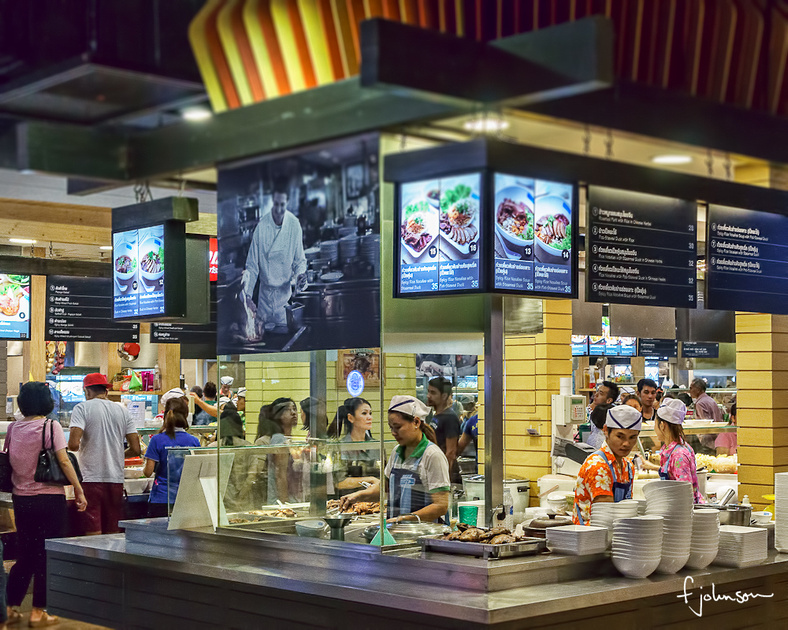 Thailand is know for it's delicious food and Pier 21 (the food court at the Terminal 21 Shopping Mall) is very popular with Thais and foreigners alike. There is an amazing variety of foods, expertly prepared at reasonable cost. Tina and I had 4 dishes, 1 desert, ice tea, coffee, and water. We left full and satified with a very good meal at a cost of 217 Thai Bhat ( $7.56 US). Let me begin by showing you some more images of this modern food court and then images of some of our sampled foods.
Pier 21 at Terminal 21 Shopping Mall

| | |
| --- | --- |
| | |
Tina selected our first dish: BBQ Pork with Sesame Noodles, pickled ginger, and vegetables in a tasty sauce. It was absolutely delicious.
I had a hard time deciding on a second dish, but finally selected: Buried Chicken with Yellow Curried Rice and a mild chicken soup. This dish is from Southern Thailand is similar to Indian Chicken Biriyani (but seasoned a bit differently). It was delicious.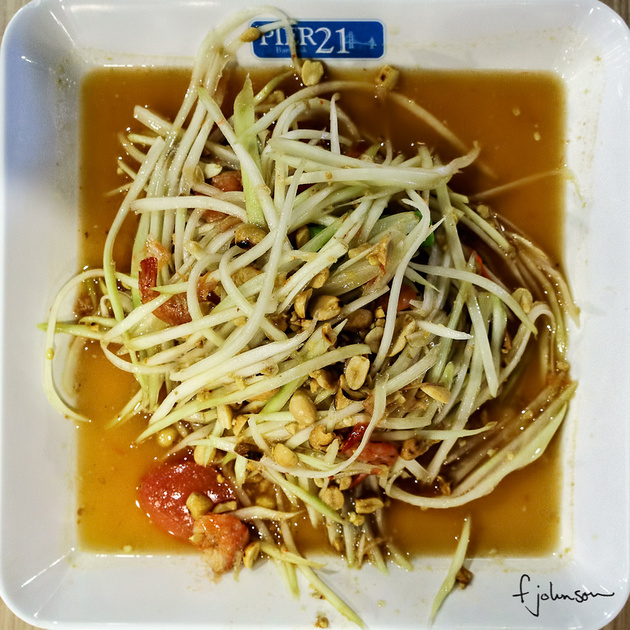 Tina was patient and waited in line for our next course always popular Papaya Salad. This salad is made from green papaya, dried shrimp, tomato, green beans, peanuts, chillis, lemon juice, garlic and other seasonings. Absolutely delicious and low in calories.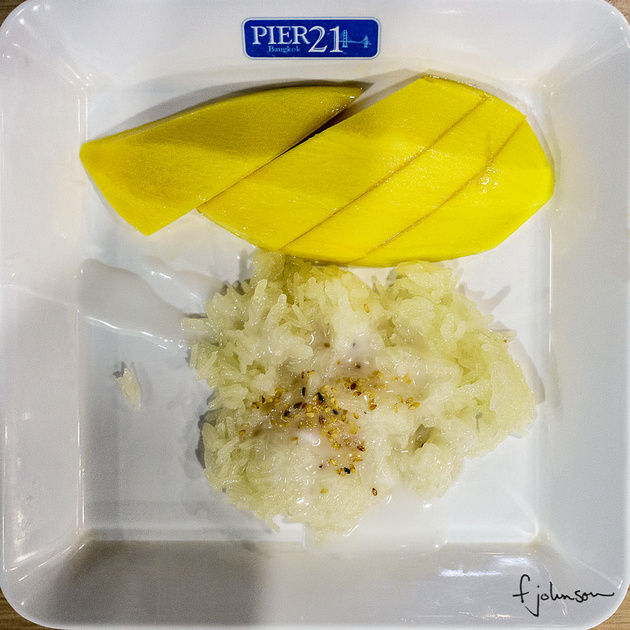 We finished our meal with Mango Sweet Sticky Rice. Tina also had a Thai desert: Thai Mellon with Taro (not pictured).
Also not shown are Ice Lemon Tea and Oliang (Traditional Thai Coffee).
After finishing our meal, we let the food digest and then went by Skytain to Homepro Plus to shop for a lamp. The young people (and not so young too) were out in force with their squirt guns, waterproof cell phone and money holders. Some even had traditional Thai cooling powder...
These guys wait at Ashok Skytrain Station, full of confidence, and fully loaded squirt guns...
The girls in the background plot last minute strategy and the train bound for glory approaches...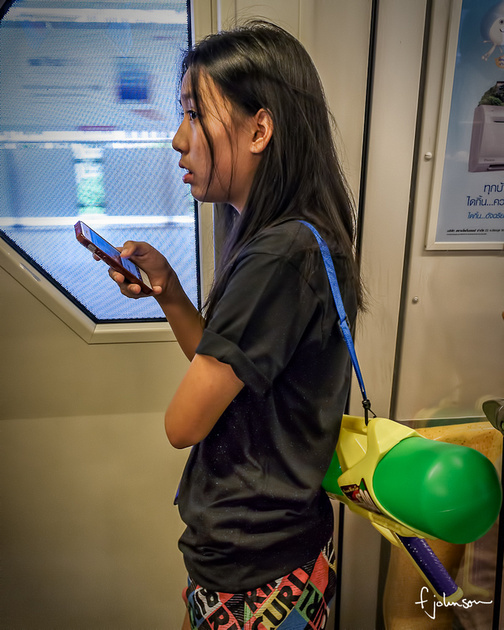 This girl, squirt gun in tow, rides the Skytrain while communicating with her friends...
Thai teachers do not have to control all of this water squirting mania as all schools are enjoying a two and a half month vacation.
It's a good thing too, as even my legendary grade and high school teachers and fellow teachers would have a hard time controling all of this....
Hope you enjoyed this brief visit to the food court and the brief glimpse of Thai culture. Till next time, all best...